Professionals tasked with performing health care appraisals still face circumstantial challenges when performing their work fifteen months after the pandemic began. While a lot has changed, the basics of valuation have not.
In case you missed it, Weaver's Corey Palasota and Joe Spano spoke at the Texas Society of CPA's Advanced Healthcare Conference on July 12, 2021, about the valuation of private health care companies in today's complex and volatile environment. Here are some key takeaways:
1. Health care businesses will have superior long-term demand opportunities compared to the rest of the economy. The 65+ population is projected to grow by nearly 90% by 2060 according to the US Census Bureau. This aging population in the United States translates to increased demand for a wide range of health care services in the near future. Health care spending will continue to increase its share of the pie of a growing national GDP.
Source: United States Census Bureau; Projected Population
2. Pricing pressures are persistent. While volume growth is good news for health care service businesses, forecasted provider (physician) shortages, pricing pressures from CMS and private payers, and steerage of patients to lower cost-of-care settings could have negative long-term impacts on profits. From 2009 to 2020, Medicare Advantage penetration increased from 23% to 39% of total Medicare beneficiaries, which contributed to the acceleration of lower cost of care patient migration (inpatient to outpatient):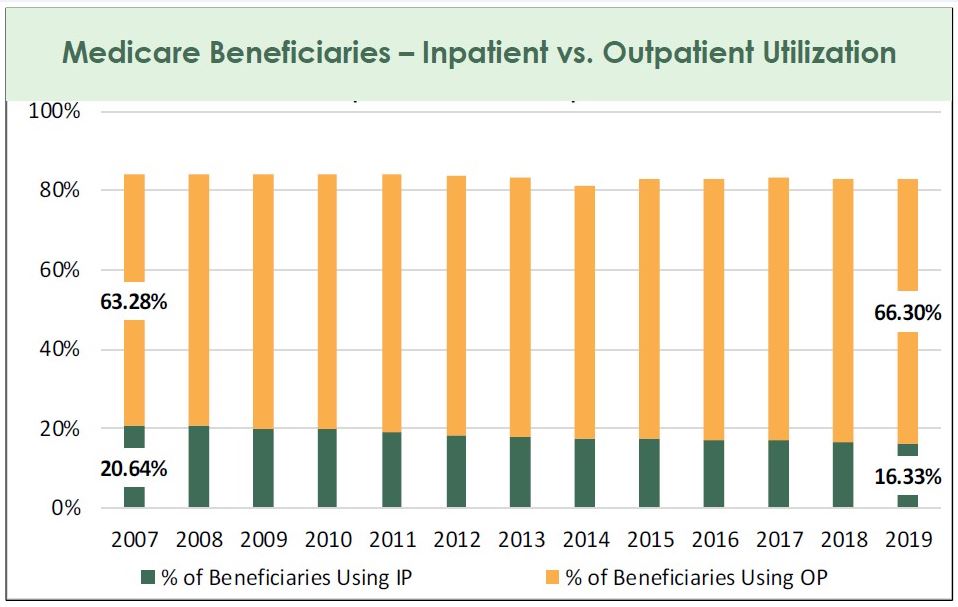 Source: medicare.gov
3. Transaction multiples for some health care service segments are back to record highs. EBITDA multiples for health care services businesses have risen back to 2019 levels—and even higher for some segments. However, the lingering question for appraisers is how to determine what a "normalized" EBITDA level is to apply these multiples. While transaction activity in 2021 has significantly increased compared to the first three quarters of 2020, some buyers have delayed transaction activities until they can obtain clearer pictures of their target's post-COVID operations and financial situation.
4. Business valuation remains forward-looking and specific to the underlying entity. While macroeconomic and industry events set the background, a valuation is still subject to the specific factors affecting the underlying entity in the short and long term. Some of these factors may include service mix, physician activity, payer contracting, and competitor activity.
For more information or any other questions about health care valuation, contact these speakers: