A key piece of our recent core values refresh initiative was updating our program to recognize and reward Weaver team members who truly exemplify our core values. Our people have always lived these values—they are the heart behind them and the source from which they were developed—but our goal was to elevate the recognition program. We wanted to ensure that the awards were given to a select few members of our team who authentically embody our core values, day in and day out.
Ultimately, that meant narrowing a long list of nominees down to four Core Values Award finalists—one from each of our four service lines: Assurance, Tax, Advisory and Operations. Of those four, one would be selected for a prestigious firm wide award called "The Tidwell," named for one of the firm's founders, D. Wayne Tidwell.
This year at Weaver's annual State of the Firm meeting, we had the opportunity to recognize those four individuals. The winners were nominated by their managers and peers, then selected by our culture committee for being exemplary models of living our values. Congratulations to our Core Values Award recipients and the one Tidwell Award winner. Thank you for so readily demonstrating Weaver's Core Values. People like you are what make Weaver a great place to work.
Kyle Morris – Core Value Award Recipient
"Kyle Morris is well known amongst his colleagues as someone who takes the time to listen to the issues of other team-members, providing guidance and advice as warranted. Kyle is not afraid to take on new projects or new tasks, even when they involve new subjects or standards he is not yet familiar with, and does so with a positive can-do attitude. He exhibits a number of personal attributes that align with our core values and is most deserving of this recognition."
James Jones – Core Value Award Recipient
"James is selfless and dedicated to helping others, a go-to resource for staff when they have questions on both his clients and unrelated clients, due to the comfort level he has established with the office. He has a can-do attitude regardless of obstacles, an incredible work ethic and performs at a level well above his experience in years. James continues to drive positive morale and reinforces relationship-building and career development between team members in the office."
Reinie George – Core Value Award Recipient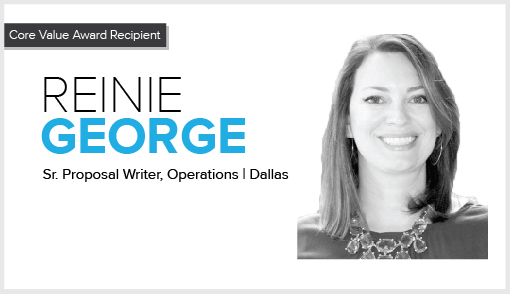 "Reinie shows consistent dedication to helping others and is known as a knowledgeable resource for her colleagues, providing thoughtful insight and suggestions and delivering high-quality work. She goes above and beyond and takes ownership of every project she works on, regardless of how much or little her involvement is. Reinie cares deeply about contributing to the firm and driving growth in a meaningful way, taking on challenging, high-visibility projects and navigating them with grace, professionalism and creativity."
Landon Flax – Tidwell Award Winner
"Landon has a passionate approach to client service and exhibits great work ethic and dedication to the firm, functioning on a daily basis as if Weaver were his business, and always striving to transcend client expectations. He is a model to others for taking initiative and holding himself accountable. As a manager, he has been successful guiding and leading his groups with a focus on providing the tools and mentorship to help them succeed at work and in life. Most importantly, Landon is a high character guy, period.  The way he handles himself, both personally and professionally, with integrity, respect, and perspective, is second to none."
*Nomination stories provided by Weaver team members to exemplify the way each award recipient lives our core values.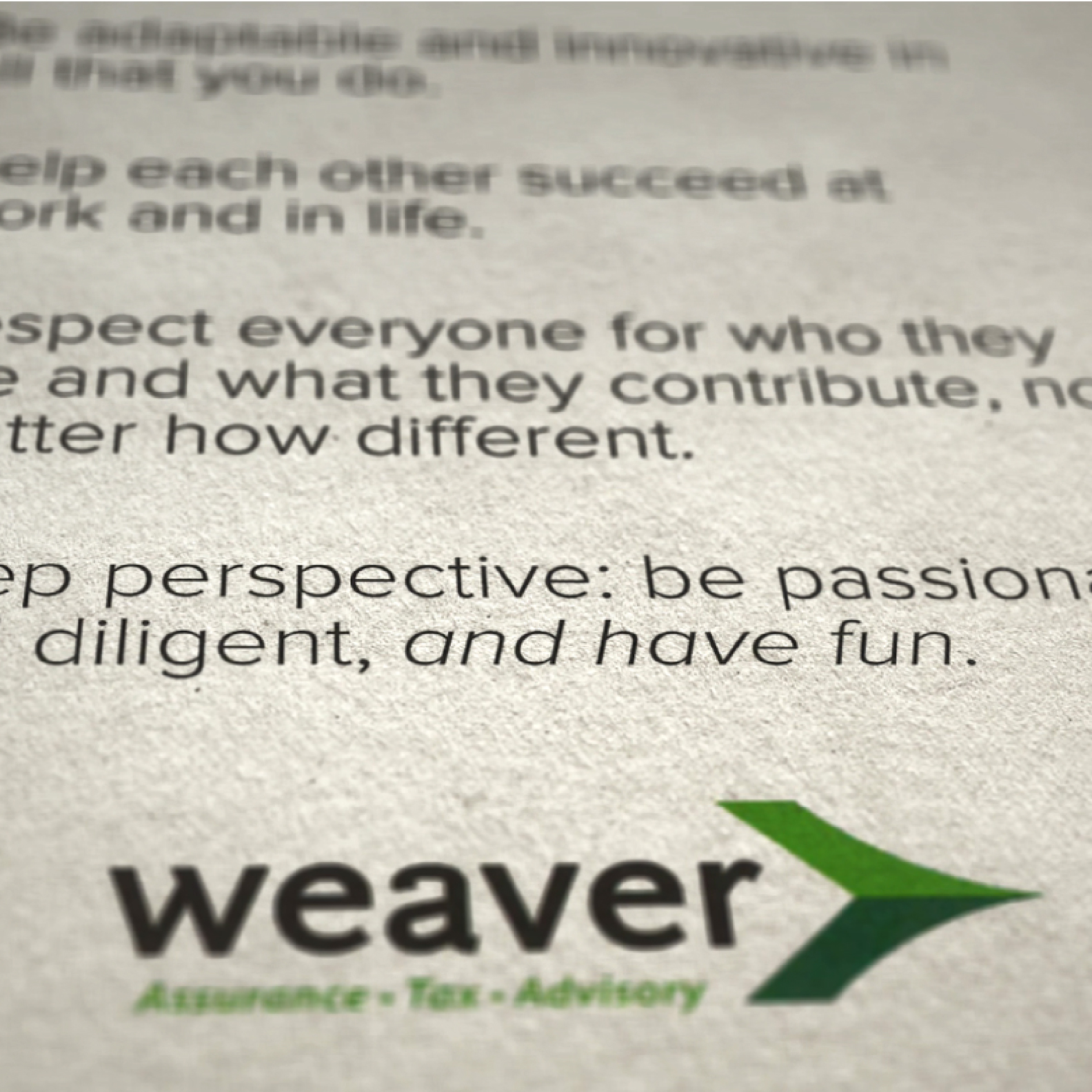 Our core values drive virtually everything we do here at Weaver — the way we work, the way we operate and the way we serve our…