Government Impact
The saturation of data in various areas of life and functionality has led to an interest in exploring different types of data management. Government agencies, along with their goal to be more transparent, have further put a demand on the handling of all of this data. As a result, incorporating newer and improved technology is a highly desirable track that takes center stage in this conversation.
In what ways can companies, agencies, or organizations better strategize to improve the overload of data while also providing easy-to-use services for access?
In a new episode of Government Impact, host Todd Hoffman talks to Scott Stern, Head of Global Product Marketing and Strategy at OneStream, and Morgan Page, Partner-in-Charge of Digital Transformation and Automation at Weaver, about the evolution of data management in government organizations and the best practices for implementing functional technological updates.
Key Points:
Data transformation is underway in government and agencies are gradually transitioning from paper to digital sources.
Digitalization needs are increasing at a faster speed compared to pre-existing systems currently supporting many governments.
Government organizations, in particular, need to find reasonable solutions and strategies for their digital needs going forward.
Stern discussed the changes he's observed and the importance of data ownership for trust-building. He said being able to drive numbers without being overly focused on data management will help improve this. "The speed of now has to put this in front of the users at scale and not put them at the end of the line… they need to be setting the table in terms of the data strategy. That's a dynamic shift that we see happening a lot in the market," said Stern.
Page added that making effective changes will vary depending on the need of the organization. He emphasized that organizations should carefully examine all of the obligations to be better prepared.
"Every organization's needs are going to be slightly adjusted. If you take a blue chip digital transformation and compare it to a mid-market, they're not going to work together and it's not going to meet the needs and it's going stall out. You need solutions that are adaptive and responsive and really facilitate that change in the business but are also flexible enough to also meet the need of that business," said Page.
Subscribe and listen to future episodes of Weaver: Beyond the Numbers, Government Impact on Apple Podcasts or Spotify.
© 2023
---
Scott Stern is the Head of Global Product Marketing and Strategy at OneStream. He's been with the company for over four years now and is a graduate of the University of Florida–Warrington College of Business.
Partner-in-Charge, Government Consulting Services
Todd Hoffman has 34 years of consulting experience successfully delivering results in state and local government. He has led…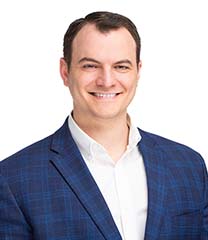 Partner-in-Charge, Digital Transformation and Automation Services