Happy New Year! In this week's episode of Motor Fuels Tax Minute, we are headed back to the basics. Join our hosts for an overview of motor fuels basics, and a chance to win some Weaver swag!
For information or assistance contact us. We are here to help.
©2023
---
Detailed Description of Weaver's Motor Fuels Tax Minute, Episode 18
00:00:00
Leanne:
Happy New Year 2023 everybody, and welcome to Weaver's Motor Fuels Tax Minute, where we talk all things motor fuel. This week we're going to be talking about…
00:00:11
Kelly:
Hold on, hold on, hold on. Wait a second. Before we start dealing with these heavy topics, what if we start including some motor fuel tax basics?
00:00:22
Emilda:
Okay, that could work. What were you thinking, Kelly?
00:00:27
Kelly:
So oftentimes, some of our colleagues in the motor fuel industry never really had a chance to deal with some of the motor fuel tax basic questions because we all get so busy. For example, like why is truck mode coach a "J" when it could be a "T"? Can ethanol actually go through a pipeline? I know this may come as a surprise to both of you, but not everyone grew up hoping to be a motor fuel tax expert as a kid. And just think about it, how great would it be for our listeners to have a quick motor fuel minute they can have their traders listen to when they get asked again and again, why is title transfer necessary?
00:01:05
Leanne:
All right, you've sold me. I like this idea. And possibly as an additional bonus for our listeners, they can drop questions in the comments or send us a private message on our LinkedIn page, or to our emails, about motor fuel topics that they want us to talk about. It can be a question they've been wondering about, or one they constantly get asked, and if their topic is picked, they can even get some Weaver swag.
00:01:28
Emilda:
I like that. I really do. Does it really have to be about a motor fuel topic?
00:01:36
Leanne:
I don't think so! As our listeners have seen, Weaver's got a wide range of experience, and even though we love motor fuel tax, we can always bring on a guest speaker to address any oil and gas industry question that comes our way. Things like sales tax, transfer pricing, income tax, property tax and a lot more.
00:01:56
Kelly:
All right, ladies, I'm liking this plan already. So let's get back to the basics, back to the basics.
00:2:08
Emilda:
Well, me too. Maybe, Kelly, without the dance.
00:02:15
Leanne:
Let's just skip the dance, but let's bring on the knowledge.
00:2:21
Emilda:
: I agree. Throughout 2023, in addition to our guest speakers and our usual updates, we will start incorporating some motor fuel basics and allow our listeners a chance to get some swag.
That's this week's Motor Fuel Minute. Join us next week. Thank you.
00:02:41
Leanne:
Thank you
Director, Motor Fuels and Excise Tax Services
Leanne Sobel, J.D., has over 15 years of experience in legal tax matters. Her career focus includes federal and state tax and…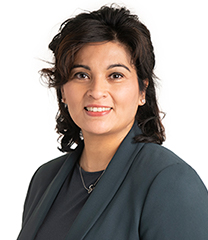 Director, Motor Fuels and Excise Tax Services
Emilda Santiesteban has more than 21 years of experience in complex fuel excise and sales and use tax matters.…