Weaver Wednesday: Government CPE Series
"NextGen" & "Advanced" Cyber Capabilities are the New Expected Basics
Wednesday, October 5, 2022
4:30 pm ET | 3:30 pm CT | 2:30 pm MT | 1:30 pm PT
1 CPE credit available for the live webinar.*
Cybersecurity risks evolve at a fast pace and protecting your government from persistent attacks requires a progressive understanding of cybersecurity fundamentals. Join us for a fresh look at the "basics" needed in today's cybersecurity landscape. Our session will revisit cybersecurity frameworks and requirements and how they've changed over time and dig into the advanced capabilities that are becoming essential to staying ahead of the bad guys.
This session will cover the following:
Changes and developments within the cybersecurity frameworks and standards
"Advanced" capabilities that have become baseline expectations
Keys in leverage mappings and open-source projects
How to prioritize and communicate "quick wins"
Register:
Meet the speaker:
---
1 CPE credit available for the live webinar • Level: Basic • No prerequisites • Free to attend
This webinar is for all levels of accountants, finance professionals, CFOs, COOs and CTOs. Please note that each person should register and attend individually in order to receive CPE credit.
*Weaver is licensed to provide CPE credit for Texas and New York. We are not currently a registered CPE provider with NASBA. Therefore, you should confirm with your applicable state board and/or professional organization to ensure they will accept the CPE credits.
Can't make this webinar? Registering will allow you to view the webinar on-demand, when it is most convenient for you.
Questions about registration? Contact John Rio at john.rio@weaver.com or 972.448.6904.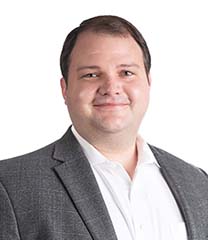 Partner, IT Advisory Services
Trip Hillman, CISSP, CISA, CEH, GPEN, GCFE, GSNA, has more than a decade…