The COVID-19 pandemic has forced all sorts of businesses to get adaptable, and perhaps no one knows that better than the people running the financial side of things.
To understand how businesses are coping and recovering from COVID-19, Weaver CEO, John Mackel conducted a roundtable with a number of financial executives, including Hans Moller, Chief Financial Officer at Brinks International, Mark Novell, Chief Accounting Officer at European Wax Center, Craig Storey, Chief Financial Officer at Vari and Melinda Lawrence, Chief Financial Officer of Worksoft and got their perspective on the lessons they've learned.
One consistent was not only being flexible but also being innovative. Vari has most of its employees back in its offices because of the detailed protocol it set out and the innovative ways it's keeping employees separate while still in the same office.
"As of right now we have about 90% of our staff working inside our building, and I think as our COO Jeff Lamb says, 'This is the safest place I'll be all day including my home,' so I think we've created a terrific environment that really encourages collaboration in a pandemic in a safe way," Storey said. "We have to show grace to people. We aren't stamping our foot saying you have to be in our office … I think we've led with grace and said the important thing is everyone is going through a different struggle. Let's make sure we're doing everything we can to continue you can thrive in this environment."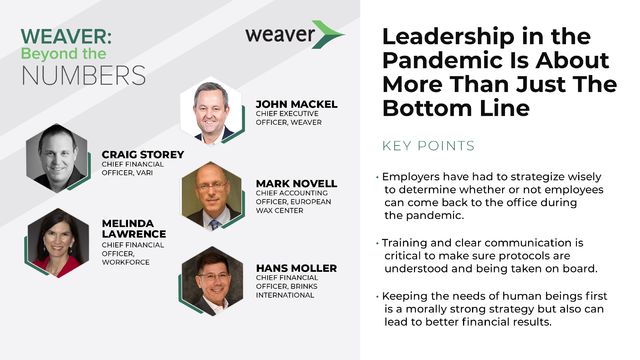 As the situation continues to unfold, many of us are finding the silver lining and adjusting to the future. Having that perspective and remembering employees are dealing with not only their work-life changing because of COVID, but also with family, personal and other outside factors, is key.
"I go back to the human side. I think we've built some relationships, even though they've been through video, that really have created loyalty between our management team and our employees," Lawrence said. "We've really put at the forefront what's important for our employees to keep them engaged, keep them happy."
Subscribe and listen to future episodes of Weaver: Beyond the Numbers on Apple Podcasts or Spotify.
Visit weaver.com for more thought leadership on today's topics and to subscribe to Weaver's Monthly Insights Newsletter.
© 2021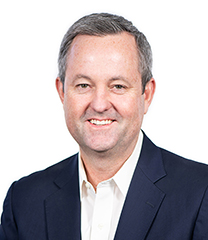 Chief Executive Officer and Managing Partner
John Mackel, CPA, has over 25 years of experience in public accounting and currently serves as Weaver's managing partner and…