The Weaver Compliance Navigator provides direct access to the key environmental rules and regulations that govern petroleum and renewable fuels. You no longer have to search different websites to find the specific regulations that you contend with every day; all of your compliance needs are now available in the palm of your hand.
It is more important than ever to be able to keep up with the evolving world of fuels compliance. The Weaver Compliance Navigator is the tool you need to quickly and efficiently find and understand these complex rules and regulations. You can now access information from multiple state, federal, and international regulatory bodies in one centralized, easy-to-use location.
What's Inside: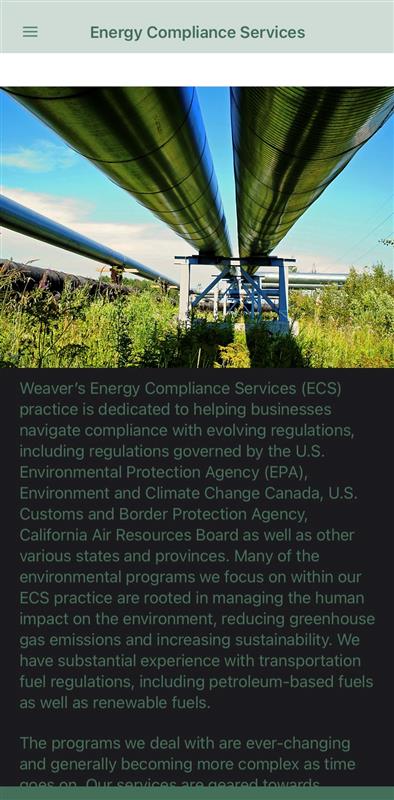 Regulatory Bodies Featured:
U.S. EPA – Federal Fuels Regulations
Canada – Federal and Provincial Fuels Regulations
California Air Resources Board
U.S. and State Fuels Tax Programs
App Features Include:
A user friendly interface that makes staying up-to-date with key regulations easier than ever
Searchable directories of the EPA's Code of Federal Regulations, Title 40, Parts 79 and 80
Ability to easily bookmark and organize the updates that are most important to you
Option to receive timely notifications from Weaver's energy compliance professionals
A browser version of the compliance directory links can be found here.