Over the summer of 2023, markets began to signal higher outpatient surgery utilization in facilities as stock prices of health care providers with an exposure to outpatient surgery increased. This occurred in conjunction with a corresponding decrease in health insurance company equity prices. Market commentary from industry participants confirm this view.
Valuators should consider public data points, including public equity activity and commentary, to understand the macroenvironment in which the subject company operates. Doing so, we can surmise that the market is signaling higher outpatient surgery utilization, but we cannot know the fundamental reasons behind the strong outpatient surgery volume, or whether this surge is durable and sustainable.
What They Are Saying
Market participant commentary is a good way to assess the industry-wide microenvironment for utilization. For example, Bank of America recently published a survey of managers of care delivery organizations, with an emphasis on estimates of the key drivers of growth in outpatient utilization. Based on this survey of market participants, the valuator can conclude the following: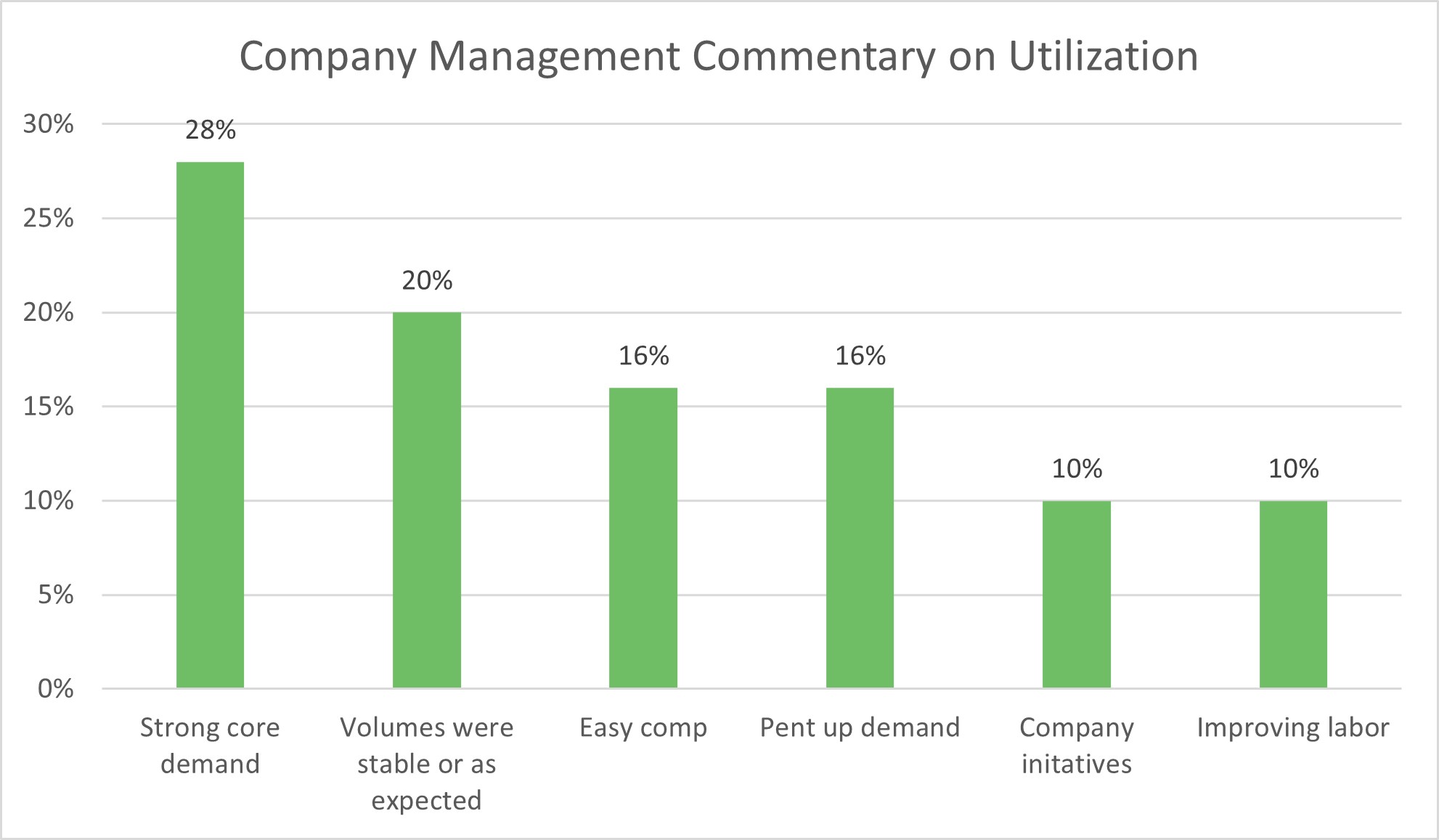 Source: BofA Global Research
Nearly 50 percent of survey participants stated that their organizations were experiencing strong core demand or realizing stable or as-expected outpatient volume. These respondents did not list a reason for the strong utilization.
Nearly 30 percent of respondents were less confident in the sustainability of the outpatient utilization increase, stating that the volume surge was due to pent-up demand or easy comparables from depressed utilization in 2022.
Some 20 percent highlighted microdynamics, such as company initiatives or improving labor dynamics, as driving outpatient utilization. These explanations are local, signifying initiatives from the company or specific market dynamics. Improving labor dynamics may allow for increased outpatient surgery utilization, as the proper skilled clinical staff are added to meet existing demand.
United Healthcare Second Quarter 2023 Earnings Call Observations
"We observed increased care patterns, notably in outpatient surgeries for seniors and especially with certain orthopedic procedures which may have been postponed."
"In the second quarter, outpatient care activity among seniors was a few hundred basis points above our expectations. As we've highlighted, specific orthopedic and cardiac procedures had increased far above that level of variation."
"We made the assumption that some of these early indications that we are seeing in the outpatient volume that we talked about would remain durable."
Health Care Valuation Takeaways
Valuators should be alert to market signals and interpret and incorporate them into the valuation analysis. Public markets can signal changes in basic elements of a health care business, such as increases in utilization among certain patient subsets -- in this case outpatient surgery for senior patients.
Valuators must assess the fundamental drivers behind utilization increases. They need to try to project whether a utilization increase is sustainable or durable to properly incorporate reasonable volume forecasts into the subject company's valuation projections.
Incorporating market utilization changes into the subject company's volume and revenue projections is crucial for a thorough and accurate valuation.
Dig Deeper
For more information about these observations and their effect on health care valuations, contact us.
©2023
---
This is one in a series of related health care valuation posts: