On Location Cubed, co-hosts Howard Altshuler, partner-in-charge, Real Estate and Construction Services, and Aaron Grisz, partner, Tax Services, take the audience inside the world of self-storage property, discussing some of the factors influencing its attractiveness and its potential evolution.
Key Points:
The trend of consolidation in the self-storage industry, emphasized by recent significant mergers and acquisitions
The factors contributing to the popularity of self-storage properties, including the lower capital outlay, a consistent demand leading to growing rental rates and the relative ease of maintenance
The growing interest in industrial outdoor storage, its challenges and potential, especially in the context of last-mile distribution centers
The boom in self-storage properties over the past decade makes it one of the more intriguing investment opportunities in the real estate market. During the last ten years, the construction of self-storage facilities rose a staggering 926 percent, reflecting a relentless accumulation of personal belongings and the continuous transformation of the real estate landscape. Occupancy rates at self-storage properties are high as consumers increasingly lean into minimalistic living and downsize their homes. As a result, we are experiencing a boom in the self-storage property market and a trend toward consolidation within the industry.
The fundamental question is: why are self-storage properties such an attractive investment now, and what does this mean for the future of this real estate sector?
Subscribe and listen to future episodes of Location Cubed on Apple Podcasts or Spotify.
©2023
---
Real people. Real talk. Real Estate. Location Cubed digs into the real estate industry and offers listeners market insights, economic impacts and regional predictions. In each episode, hosts Howard Altshuler and Aaron Grisz engage in conversations with industry leaders and offer thoughts on the current trends and developments of the ever-evolving real estate industry.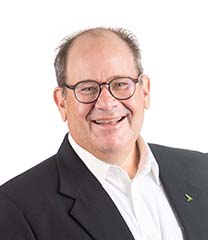 Partner-in-Charge, Real Estate and Construction Services
Howard Altshuler, CPA, brings more than 30 years of experience in audit and assurance, including more than two…
Partner, Tax Services
Aaron Grisz, CPA, has more than 10 years of public accounting experience providing proactive tax consulting and planning services…