From international operations and sales volumes of more than $500 million to startup entities with private equity commitments, Weaver understands what it takes to serve oilfield service companies. In addition to our knowledge and experience, our service approach meets the needs of these diverse organizations. Quality, timely service; ongoing, candid communication; and active partner engagement – Weaver has built its reputation on these core client-service principles.
The size of our firm and our long-term commitment to the manufacturing and oil and gas industries contribute to our ability to provide exceptional service. With a clear understanding of the industry, we tailor our services to your needs. From financial statement audits and reviews to tax planning and compliance to risk and financial advisory services, Weaver has a team of knowledgeable professionals who are deeply experienced in creating solutions for the challenges and opportunities you face.
The oilfield services industry is complex and dynamic, and Weaver is well-resourced to focus on the needs of companies of all shapes and sizes. Our clients range from drilling companies to support service companies for oil and gas wells. Major support services that our clients provide include preparing wells for production, transportation, and maintaining and enhancing the output of producing wells. Some of our larger clients also manufacture oil and gas field equipment.
Our portfolio of services includes:
Succession planning/exit strategy
Budgets/variance analysis
Energy attestation
FIN 48 and FAS 109
Full cost/successful efforts conversion
Internal audit and risk assessment
International tax services, including cross-border transaction planning
Inventory capitalization (full-absorption) analysis
IT audit
Materials requirements planning
Multistate tax planning
Profit contribution analysis
Structuring buy/sell agreements
Tax accounting method and tax depreciation reviews
Texas margin tax planning
Valuation and due diligence
Partner-in-Charge, Large Market Manufacturing, Distribution and Retail Services
Jody Allred, CPA, CISA, CGMA, has more than 20 years of experience in public accounting, a deep background in both…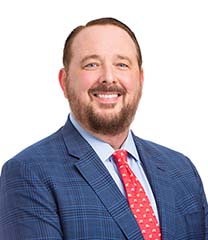 National Strategy Leader, Middle Market and Private Equity
Melvin F. "Trey" Hunt III, CPA, has more than 17 years of experience in public accounting, including former Big Four…