Commercial Disputes
|
Intellectual Property
|
Family Law
|
Insurance Disputes and Claims
|
Personal Injury and Wrongful Death Claims
|
Anticorruption, Ethics and Compliance
|
Construction Disputes
|
Real Estate
|
Employment Disputes
|
Bankruptcy Litigation
|
Business Interruption and Related Claims
|
Public Sector Forensic Audits and Investigations
|
Corporate Forensic Accounting Investigations
|
Financial Investigations for U.S. Companies with Operations in Latin America
---
Forensics and Litigation Services
Our forensics and litigation services practice provides forensic accounting, litigation or dispute advisory services, fraud and financial investigations, tax litigation support and commercial disputes to public, private and not-for-profit organizations. Quantifying damages and uncovering fraud can be complex and intricate, but the advantage we offer is simple: with our deep bench of talent, we can assemble the right teams to address the most complicated issues effectively and efficiently. Read more about our services below or contact us to find out how we can help you.
Public, private and not-for-profit organizations depend on us for quality service
Our seasoned professionals have decades of experience uncovering fraud, compiling evidence, and providing testimony that stands up in court. We serve as forensic financial investigators, consultants and expert witnesses for Fortune 500 companies, law and accounting firms, government agencies, not-for-profits, insurers and individuals in construction, real estate, health care, energy, oil and gas, technology, financial services, and education, among other industries. Weaver's professionals regularly perform fraud and special investigations for regulators, boards of directors and senior management responsible for entities ranging from governmental and quasi-governmental organizations to publicly traded and privately held companies. We also work with attorneys who represent individuals in family law, personal injury, and other matters.
We have a deep, qualified bench of talent
Forensic accounting requires a unique blend of investigative skills, a detailed understanding of accounting principles and the ability to analyze large volumes of records efficiently. Between us, our team holds one or more of these professional certifications: CPA (accounting), CFA (financial analysis), CFE (fraud investigation), ASA, CVA, ABV, CBV (valuation) and MAFF, CFF (financial forensics), and Ph.D. (economics). On June 1, 2019, HSSK, LLC joined Weaver, combining their forensics, litigation consulting and valuation capabilities to expand the services we offer our collective clients.
Meet Our Forensics and Litigation Team
Click here to view more videos from Weaver's Forensics and Litigation practice.
---
Commercial Disputes
Complex commercial disputes require experienced experts to analyze and simplify issues in order to produce written reports, testimony and trial demonstratives that are compelling and clearly understood by the trier of fact.
Weaver's heavily credentialed professionals have diverse and in-depth experience in a wide variety of disciplines and industries, allowing our firm to assemble a qualified, multidisciplinary team to address the most challenging commercial litigation issues. Our clients include Fortune 500 corporations, private companies, heavily regulated entities such as financial institutions and insurance companies, government agencies and many others.
We have experience in a wide range of commercial disputes regularly involving issues such as:
Corporate governance
Director and officer misconduct
Misuse of corporate funds
Business tort claims
Breach of contract
Breach of fiduciary duty
Financial misrepresentation
Misappropriation of assets
Accounting irregularities
Fraud
Intellectual property infringement
Theft of trade secrets
Business interruption
Fraudulent conveyance
We provide a number of services in commercial disputes, including:
Economic damages analysis

Lost profits
Diminution of value
Unjust enrichment

Asset tracing
Fraud investigations
Forensic reconstruction and analysis of accounting records
Valuations
Assistance with all phases of litigation including discovery assistance, deposition and trial preparation, and expert witness testimony.
Intellectual Property
Patents, trademarks, copyrights, and trade secrets are often the most critical assets owned by an enterprise. Litigation involving intellectual property infringement can make or break the future of the business. Weaver's intellectual property experts have comprehensive experience related to the evaluation of damages involving patent, trademark, and copyright infringement and misappropriation of trade secrets. Our services include the quantification of and testimony related to lost profits, reasonable royalties, price erosion, corrective advertising, unjust enrichment, accounting of defendant's profits and diminution of value in intellectual property litigation. Weaver also has extensive experience valuing intellectual property to assist in negotiating reasonable royalty rates and for purchase price allocation related to acquisitions.
Family Law
Among the many factors to consider and evaluate during a divorce, financial aspects are critical. Our family law professionals help attorneys and their clients understand and resolve a wide range of complex financial issues that affect the fair and equitable division of a marital estate.
Our team has decades of combined experience serving as consulting and testifying experts on marital dissolutions involving estates of all sizes and complexities. We are uniquely positioned to provide efficient, responsive and unbiased analyses that can help resolve matters in or out of the courtroom.
Insurance Disputes and Claims
Bringing insight to insurance claim disputes
Weaver has been assisting law firms, corporations and insurance professionals for decades as experts in insurance claim disputes. From insurable loss events that have impacted the "super majors" in the oil and gas industry to major manufacturers throughout the domestic markets, our seasoned professionals have been called upon to assist with quantifying and evaluating loss claims and economic damages.
Weaver professionals understand the ins and outs of insurance damage claims, claims accounting, claims modeling and successfully communicating both amounts and issues of concern to insureds, law firms and insurance professionals.
Services include:
ACV (actual cash value analyses)
Arson (financial motive)
Builder's risk insurance (construction)
Extra expenses
Fidelity bond claim
Physical damage cost review
Property appraisal
Rents loss
Report of values
Subrogation
Personal Injury and Wrongful Death Claims
Calculating economic damages in a personal injury and wrongful death disputes requires a detailed analysis of the documents and facts, as well as knowledge of the specific rules and conventions particular to these types of claims. Weaver's professionals have a long history assisting the legal community in calculating the present value of future medical costs, and evaluating plaintiffs' lost earnings, lost household services, and other economic damage components in personal injury and wrongful death claims. Learn more about our services in the link below or call us to find out how we can help you.
Anticorruption, Ethics and Compliance
The Department of Justice, the Securities and Exchange Commission and foreign governments enforce bribery and anti-corruption regulations that can present significant compliance risks for companies both large and small. Regulatory scrutiny is always of concern as companies are challenged to meet an increasingly diverse set of regulatory requirements, including anti-corruption laws such as the Foreign Corrupt Practices Act (FCPA), the UK Bribery Act (UKBA), and the Corruption of Foreign Public Officials Act (CFPOA). Complying with these laws requires a culture of compliance, where employees understand the laws and their role in ensuring that the company complies.
Violations of anti-corruption laws can result in multimillion-dollar fines and even jail time for individuals. Disgorgement of profits and debarment from public-sector engagements in the U.S., Canada and the European Union are just some of the serious consequences that can result from violations of anti-corruption laws. Companies can also lose their export/import licenses and damage to their reputation.
Weaver assists companies and individuals in developing, implementing and monitoring proactive compliance programs to control risks and, when issues arise, respond to regulators. If companies have concerns about potential violations of the UKBA, FCPA, or CFPOA, we help them conduct internal investigations and, if necessary, deal with regulators and whistleblowers.
Construction Disputes
Weaver's exceptional responsiveness, experience, skills and credentials support clients in all phases of construction disputes
Weaver's experienced professionals assist clients and their counsel in evaluating, preparing, or responding to complex construction damage claims. Our depth of talent allows us to assemble qualified teams to address complex construction claims issues effectively and efficiently. Our extensive knowledge and our ability to present complex information clearly and concisely is crucial in providing effective expert testimony in arbitration or state, federal and bankruptcy courts.
Real Estate
A Wealth of Experience in Real Estate Disputes
Weaver's professionals have decades of experience aiding companies and the counsel who serve them with analyses that are impartial, well researched and driven by data. Our team possesses the skill and understanding to assist in any type of real estate dispute whether there are allegations of financial impropriety that require a fraud investigation, issues associated with property values or damages that need to be quantified.
Our experts have decades of experience in real estate related disputes, including those involving:
Appraisal disputes
Lost profits & damages analysis
Loss of property value
Damages caused by loss of funding
Breach of contract
Breach of fiduciary duty
Mass appraisal of real estate
Market value of commercial property
Solvency of real estate holding companies
Employment Disputes
Estimating the economic damages in a wrongful termination or discrimination dispute requires a detailed analysis of the plaintiff's career, and how it was affected by the claims asserted in the dispute. The plaintiff's economic damages may consist of more than lost wages, as they can also include other components such as lost health insurance and retirement benefits. Weaver's professionals have many years of experience calculating lost wage claims, as well as performing complex calculations to determine the value of lost pension and retirement benefits.
Bankruptcy Litigation
The financial aspects of bankruptcy are crucial to an optimal solution to the bankruptcy process. Weaver's professionals have vast experience providing financial and forensic analysis to aid debtors, creditors, and other stakeholders through the bankruptcy process. Whether you need assistance with an insolvency analysis, a fraudulent transfer claim, the financial analysis of a restructuring plan or asset tracing, Weaver is here to help.
Partner-in-Charge, Forensics and Litigation Services
Jared Jordan, CFE, leads Weaver's Forensics & Litigation Service practice and co-leads the…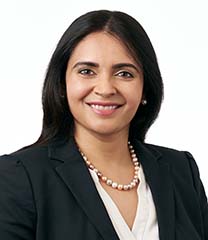 Partner, Forensics and Litigation Services
Sonia Desai, CPA, ABV, ASA, CBV, is a partner in the Forensics and Litigation Services and Valuation…